A Long and Meaningful Healthcare Journey to an Important Destination
June 21, 2021
By Bettina Experton, MD, MPH, CEO of Humetrix
On July 1st over 130 million Medicare, Medicaid and CHIP health plan beneficiaries will arrive to an important destination: getting their health data from their health plans using their mobile application of choice. On this important date marking the deadline for these plans to meet the federal Patient Access and Interoperability rule of the 21st Century Cures Act, individual health information will no longer be siloed. With their chosen mobile health applications, patients and their family caregivers will be able to assemble in one place their important medical history to have at any any time on their mobile device, for them to review, annotate, and share at every point of care. In this way, medical errors due to a lack of information can be avoided, as well as redundant or unnecessary tests or procedures.
Source: Alexandra Mugge, Deputy Chief Health Informatics Officer – CMS, Presentation on CMS Interoperability and Patient Access Final Rule
While not all health plans have met this July 1 deadline, many did and some very early, such as Humana reaching out to Humetrix to test their API and going live with our iBlueButton as early as over three months ago. Others such as Health Partners have followed, building and testing their API step by step with developers like Humetrix. On their patient access API journey, as both a health plan and a provider system, they share our view that giving patient access to their data is more than just abiding by a rule, it's about doing the right thing for patients to help them receive the best quality of their care.
Step by step we are arriving to this important destination of making patients active participants in their health care. And it's not only allowing them to access their data, but also and importantly it is about providing them the knowledge they need to make informed decisions. It has been a long journey, which is worth remembering.
In August 2010, I clearly remember sitting in my office in California and attentively listening live on the Internet to President Obama announcing the federal government "Blue Button" initiative. He was describing "Blue Button" as an open data initiative for beneficiaries of federal health programs, Veterans, Medicare beneficiaries and military personnel and their families. Only one "easy" button to click on your government health portal and simply download your data. Do you remember the Staples Easy red button? This is what inspired the creators of the federal health "Blue Button". But as I was listening to President Obama speaking of "portals", I was wondering why mobile health data access was not mentioned. This Blue Button initiative had to include mobile phones. This was at the very time when Humetrix, capitalizing on new smartphone technology, had just developed and was about to release a mobile health app to store and share "mobile to mobile" your critical health information from your smartphone. Calling then our Marketing department Manager I asked him whether the "iBlueButton" app name and trademark were available. As he answered with the affirmative, we immediately renamed our mHealth app "iBlueButton", an app which will be soon enriched with access to and display of VA, Medicare and Tricare health record data. In the Fall of 2010 iBlueButton was first released as the mobile embodiment of the Blue Button initiative.
For our Humetrix multi-disciplanary team of physicians and technologists, access to Blue Button data had to be rendered meaningful on the iBlueButton app. Downloading a text file (the original VA Blue Button) or a Medicare EOB will not help make a difference in the health and healthcare of patients, and at times potentially save lives. It was clear that the VA text file had to be organized in a clear and actionable medical history and that the Medicare EOB, capturing all health encounters of a Medicare beneficiaries for the past three years, had to be turned into the same organized medical history. And all of this data transformation had to be done on a mobile device, with data securely stored locally on the user's device. In this way, individual privacy will be best protected and one's critical health information will be available at all times - even when in an Emergency Room or physician office where access to the Internet is spotty or not available. So we parsed these unfriendly text files, decoded all medical claim codes and displayed them right on the user's phone (not in a Humetrix cloud) under the user's direct control. The iBlueButton Summary Record was then created with lists of prescribed medications, their doctors' information, and all the important details of a patient medical journey clearly displayed, and truly available at one's fingertip.
Federal open data policies allowed Humetrix to innovate, offering Veterans, Medicare beneficiaries and Americans in the military their medical information available on their phones, and for individuals receiving care through several of these different programs, information was aggregated in one single summary record, for the first time. On its innovation Blue Button journey, Humetrix won three HHS Blue Button Industry Innovation competitions from 2011 and 2013. Later in 2016, testifying before Congress about the critical value of this federal Blue Button program, which should be widely promoted, I also had the privilege to be asked to help members of Congress draft legislation on this important subject
Fast forward to 2018, Humetrix was also the first developer of native mobile applications approved by CMS to access their new Blue Button API. No more text file to parse by our tireless app development team! In 2019, with Apple and HealthLinks Humetrix was again in the group of first developers approved to access the VA Blue Button API.
Now, thanks to the new Patient Access and Interoperability rule and also the efforts of the Carin Alliance, the commercial sector is now opening its data, as others such as Epic had done it several years earlier (with the Open Epic program). As Cerner has recently opened its data to Apple, we would expect Cerner to do the same for Android device users so that they can access their Cerner health record data with their Android application of choice.
It has been a long journey for patients to have electronic access to their health records, and to make "meaningful mobile use" of their data. I am glad that Humetrix has been part of this important health information technology journey and often times leading the way on its innovative track. More remains to be accomplished, and we will continue to be there; because for the physicians and technologists that we are - and the patients we foremost want to serve - it does matter.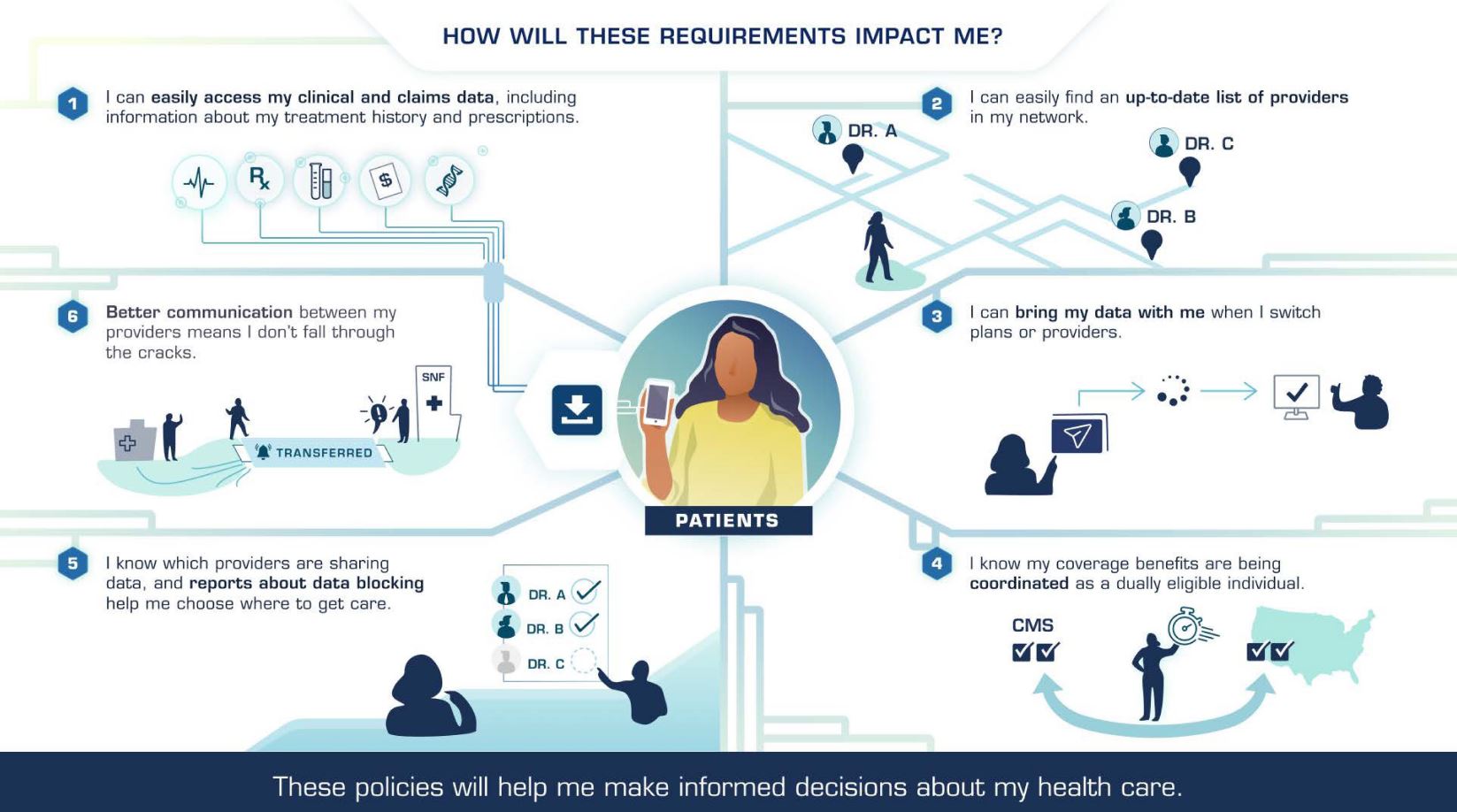 Source: Alexandra Mugge, Deputy Chief Health Informatics Officer – CMS, Presentation on CMS Interoperability and Patient Access Final Rule
| | | |
| --- | --- | --- |
| Share this Post | | |