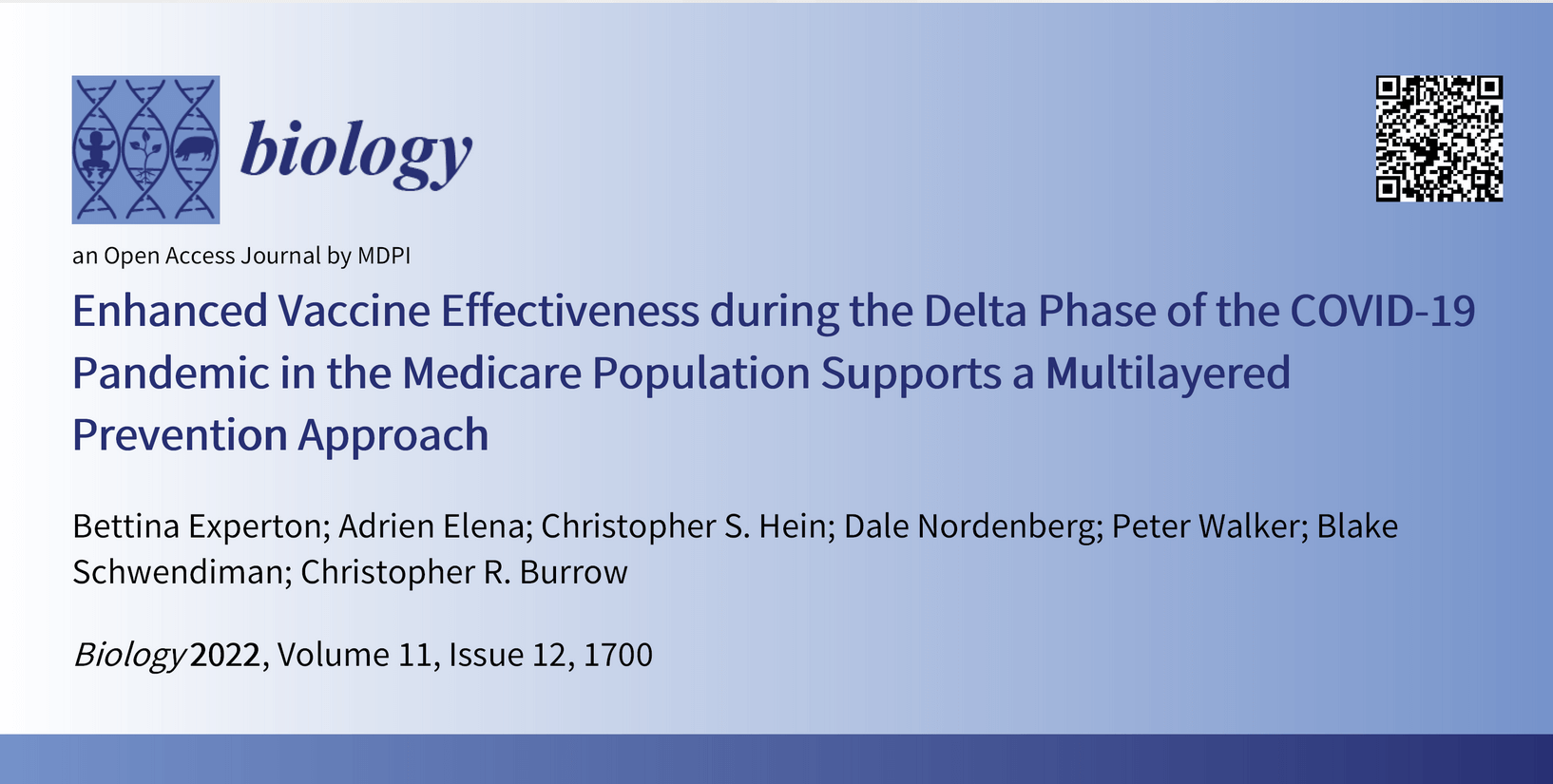 Humetrix Analyses of Vaccine Effectiveness Published in Biology Support a Multilayered Covid-19 Prevention Approach
November 30, 2022 (originally published November 28, 2022 on LinkedIn)
By Bettina Experton, MD, MPH, CEO of Humetrix
Biology has published our latest article reporting on Humetrix Covid-19 Vaccine Effectiveness (VE) analyses of the Medicare population, based on the 17M Medicare beneficiary cohort we monitored weekly over 18 months for the Department of Defense Joint Artificial Intelligence Center (JAIC). This cohort of individuals was at high risk for severe Covid-19, accounted for 55% of total U.S. Covid related deaths and allowed us to map the pandemic and its outcomes, as well as the vaccination program and its vast disparities at the zip code level (as we previously reported here).
The VE analyses we conducted on seven million fully vaccinated individuals, showed the effectiveness of Covid-19 vaccines in reducing infection, and more so severe disease. Like others have reported, our analyses revealed waning immunity three to five months after full vaccination, substantiating the need for booster doses. 
However, and for the first time, we report that as the Delta phase of the pandemic progressed vaccinated individuals became even more protected over time than unvaccinated individuals. This apparent VE enhancement occurring week after week during the Delta phase is likely due to increased masking and adoption of other individual preventive behaviors as masking recommendations were resumed by health authorities when Delta variant infections intensified. 
Today, as we see "vaccine fatigue" even among individuals at higher risk, such as older individuals of whom less than a third have received up to date booster doses, prevention of Covid-19 (and other concomitant respiratory infections, such as the flu) should be multilayered, including both vaccination and masking.
Our findings also highlight the importance of large Medicare datasets (as reported in JAMA), for ongoing pandemic surveillance along with the use of near real time analytic platforms as exemplified by the Humetrix health data processing and analytics platform.
I would like to thank my co-authors from Humetrix: Chris Burrow, Adrien Elena, Chris Hein, Blake Schwendiman, for their contributions including their tireless efforts in analyzing weekly over 100 million Medicare claim lines over 18 months and assembling a 7 TB analytic database and also thank Dale Nordenberg and Peter Walker for their support and contributions to the writing of this new manuscript.
| | | |
| --- | --- | --- |
| Share this Post | | |