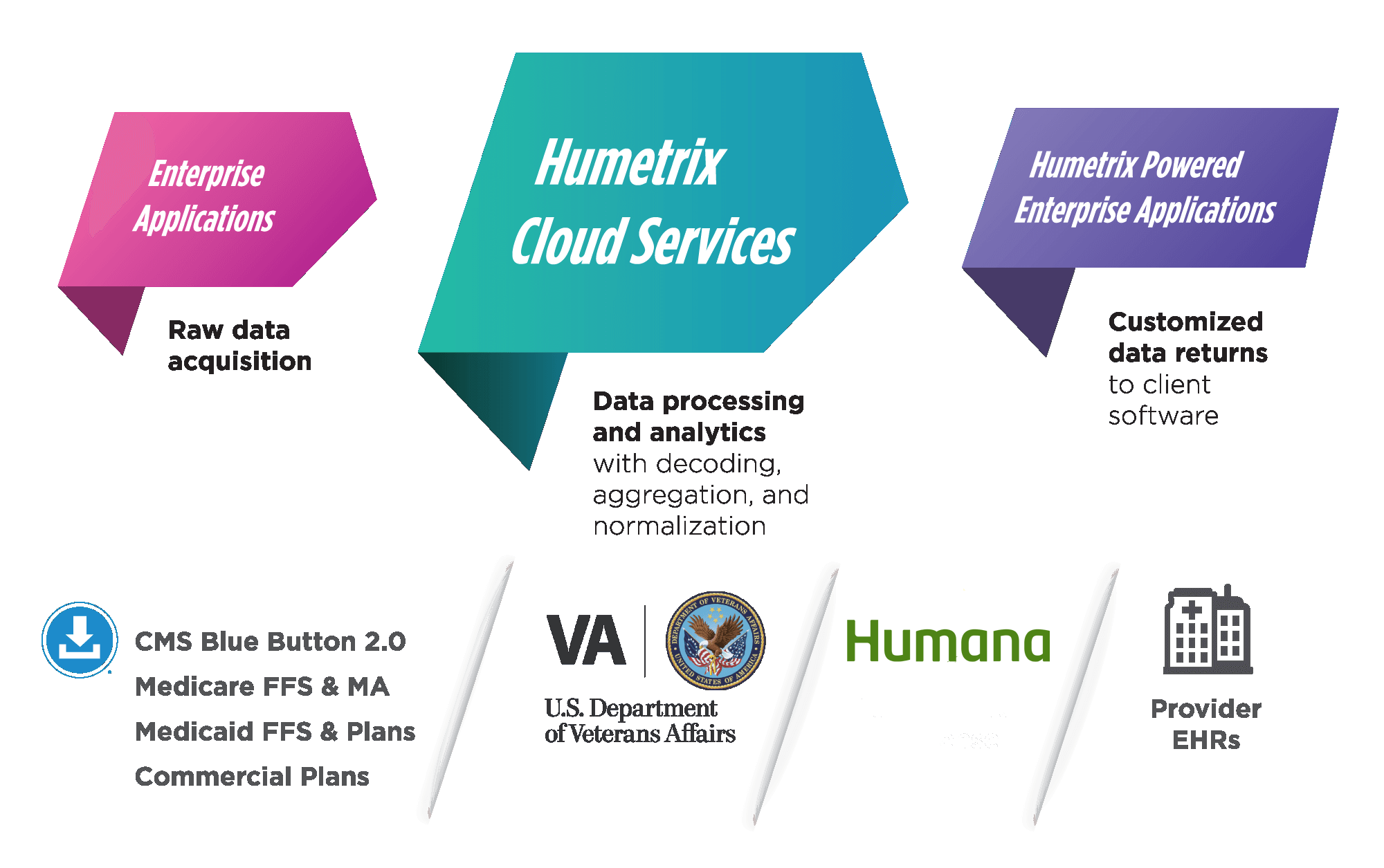 The Humetrix enterprise platform provides healthcare organizations, telehealth providers, commercial payors and government agencies with real-time clinical data management and analytics for direct integration with their existing patient and provider facing solutions. The AI powered platform with a security by design architecture processes, aggregates, analyzes and organizes claim, EMR and connected device data to ensure that patients can receive, and payers, healthcare organizations and providers can deliver safer and more cost-effective healthcare.
Importantly, the Humetrix enterprise platform screens for specific chronic conditions and other risk factors for severe COVID-19 illness and automatically generates individualized warnings for use by providers and patients
.
Learn More

The SOSQR Global international health information exchange platform is offered worldwide to government agencies, healthcare systems, sports and other public event organizations, and others for real-time multi-language and multi-country health information exchange. The platform is available for patient-clinician health data exchange in more than 80 countries and in over 30 languages.
A customizable platform, SOSQR Global addresses multiple use cases to overcome language barriers and medical terminology differences across countries, such as for urgent and emergency care, health screenings, or during pharmacy and other health care encounters. With a privacy-by-design architecture, the Humetrix international SOSQR Global platform is GDPR compliant and meets the strictest cybersecurity rules and policies.
---
With a "Privacy by Design" architecture, we have designed our applications to meet the highest privacy standards. Please see our Privacy Policies for more information.
A Medicare and VA Approved Platform for Safer & More Cost-Effective Healthcare
| | |
| --- | --- |
| | |
iBlueButton, now in its 10th major release, enables Medicare beneficiaries, Veterans, Americans covered by Humana receiving care from close to 400 healthcare organizations throughout the country (to date, on Android platforms only for Humana health records), and individuals covered by TRICARE to easily and securely pull, assemble, store and render their Blue Button and other health records into an actionable medical history. With iBlueButton, users can review their health information, receive personal healthcare guidance, including important personalized warnings to users at risk for severe Coronavirus illness, notifications to those eligible for COVID-19 vaccination and the ability to show and share their specific COVID-19 immunization status. iBlueButton users can annotate and share their up-to-date health information with their providers. A patient empowerment tool, iBlueButton is an interoperability solution for critical health information exchange at every point of care to improve care coordination and deliver more cost-effective healthcare. Learn More
Get Help and Be Safe in an Emergency Around the World
SOS QR is a multi-language app for emergency and disaster preparedness and response for use anywhere in the world. The app allows users to easily create emergency records attached to unique QR codes generated by the app for emergency responders' immediate access to the individual record, presented in the country's language where the emergency took place. One-touch SOS and OK buttons let users automatically contact and text their emergency contacts with the GPS location of the emergency. In the US and the UK, SOS QR provides for chronic condition care guidelines, importantly automatically generates personalized warnings to users at risk for severe Coronavirus illness and now show and share their specific COVID-19 immunization status for use worldwide. Learn More
TENSIO™ is an app designed by the Humetrix physician team to help anyone best manage their high blood pressure. The app integrates Apple HealthKit data from the user's monitoring devices (blood pressure monitor, activity tracker, etc.) with individual health and medical record data such as conditions and medications. TENSIO then applies medical intelligence in the form of an expert system to guide app users to manage their hypertension via periodic notifications. TENSIO is Apple Watch enabled. Learn More
News
In the Media
CES Interview of Dr Experton - February 4, 2023 - by Dave Graveline, IntoTomorrow
ShowStoppers - WhatMeds Tracks Your Medication - MacVoices #23059
BEST of CES 2023 with DR. FRANK 01-13-2023 - January 6, 2023
CES 2023 Interview of Humetrix CEO, Bettina Experton, by James Augustine, MD, FACEP. - CES 2023 Digital Health Studio, Las Vegas January 6, 2023
Enhanced Vaccine Effectiveness during the Delta Phase of the COVID-19 Pandemic in the Medicare Population Supports a Multilayered Prevention Approach - Biology - November 24, 2022
A Predictive Model for Severe COVID-19... - BIOLOGY Special Issue "Theories and Models on COVID-19 Epidemics", November 14, 2022
375 Healthcare Organizations Urge Senate to Ensure Expanded Telehealth Access - TELEHEALTH NEWS - Mark Melchionna - September 14, 2022
Health tech takes center stage at CES 2022 - SWIFT HEADLINE - By Chris Hugh - Jan 5, 2022
Events
FDDay and CES 2024 Tech Trends - Paris, September 20, 2023
Dr. Experton speaking about the development of healthtech innovations with Brian Comiskey at FDDAY - Musée des Arts Forains, Paris, September 20, 2023
CES 2024 - Las Vegas, Jan 9-12, 2024
HLTH 2023 - Las Vegas - October 8-11, 2023 - Humetrix exhibiting at the Digital Health Hub Pavilion at booth 4956 in the LVCC West Hall
CES 2023 - Las Vegas - January 5-8, 2023 - Humetrix exhibiting in booth 8162 in the LVCC North Hall
Dr Experton speaking on the Equality Lounge @ CES panel "Caring for Caregivers: Tech-Focused Solutions that Ease the Burden for Women" on January 5, at 2 pm, at the ARIA Resort & Casino
CES Unveiled Paris - Paris, France - October 10, 2022
HIMSS 2022 - Orlando, FLA - March 14-18, 2022 - Humetrix exhibiting in booth 4675 in the West Hall
Press Releases
Humetrix Introduces WhatMedsTM for Your Mobile Wallet at CES - Las Vegas - December 28, 2022
At CES Unveiled Paris Humetrix Will Showcase its User-Controlled AI-Powered Emergency Care Platform with Automated Medical Terminology Translation for Worldwide Use - Paris - October 3, 2022
At CES 2022 Humetrix Shows its AI-Powered Platform for Pandemic Response and Precision Public Health - Las Vegas - January 3, 2022
CES 2021: Humetrix Shows its AI-Powered SaaS Platform for Pandemic Response and its New COVID-19 Vaccination Record Mobile Applications - January 11-14, 2021
CES 2020 Wraps: AI and 5G Define the Future of Innovation - Business Wire - January 10, 2020
At CES, Humetrix Will Showcase its "Privacy by Design" Digital Health Platforms Helping Millions Get Safer HealthCare While Protecting Individual Privacy - Las Vegas, January 2, 2020
Exhibitor Lineup and New Speakers Announced for CES Unveiled in Paris - Business Wire - September 26, 2019
At CES on the Hill, Humetrix to Show its Medicare Approved iBlueButton Application for Millions of Americans to Get Safer Care & to Help Deliver on the Proposed CMS Patient Access & Interoperability Rules Called by the 21st Century Cure Act - Del Mar, California - April 25, 2019
Humetrix to Showcase at HIMSS its Medicare Approved Blue Button 2.0 Mobile Platform for Safer & More Cost-Effective Health Care - Del Mar, February 8, 2019
At CES, Humetrix Will Unveil its Medicare Approved Mobile Platform - Las Vegas - January 3, 2019
Awards and Recognitions
2021 Humana API Approved
2020 – Present: Industry Partner of Department of Defense Joint Artificial Intelligence Center (JAIC) for Project Salus
2019 VA Health API Approved
2018 Medicare Blue Button 2.0 Approved App
2018 NHS App Library
2018 Developers Trust Alliance
2017 Galien Innovation Selected Finalist
AARP 50+ Innovation Leaders
The Most Powerful Women in Healthcare IT for 2017 Award
2017 HealthData Management
2016 FCC Chairman's Awards for Advancements in Accessibility (June 2016)
2014 Physician's Practice 10 Best Medical Apps in 2014 (Dec 2014)
2014 FierceHealth Innovation Award Finalist in HIE category (Dec 2014)
ICE App Honored by "Parent Tested Parent Approved" Community (April 2014)
HHS/ONC Blue Button Co-Design Challenge Award Winner (Sept 2013)
2013 Best "Overall Consumer App" In the "Mobile Apps" Category (Sept 2013)
HHS/ONC Blue Button Mash Up Challenge Winner (Oct 2012)
Recognized Innovator in "2012's Most Interesting Health IT Vendors" (May 2012)
HHS/ONC Industry Innovation Challenge Award Winner (Dec 2011)
---
Contact Us
Location & General Contact Info:
1310 Camino Del Mar, Suite C
Del Mar, CA 92014, USA

Humetrix Mailing Address:
1155 Camino Del Mar, #503
Del Mar, CA 92014, USA

Customer Support:
iBlueButton:


SOS QR:


TENSIO:

WhatMeds:

Licensing & SaaS Sales:
Humetrix offers enterprise clients its Humetrix Cloud Services either as a Software as a Service (SaaS) or under an enterprise License agreement. We also offer customized versions of our mobile applications. For more information about pricing and product demonstrations please contact us at:

Media Contact:


Employment:
If you are interested in joining a great team in Del Mar, CA and taking your career to the next level, please send your resume to: