Digital Health Summit, Sands Expo, Booth 73228
With SOS QR, Humetrix Turns Apple Watch into Personal Alert Response System
Humetrix to Demo Award-Winning Apps – SOS QR, iBlueButton, TENSIO – at CES 2016
Las Vegas, January 6, 2016 -At CES 2016, Humetrix will debut the newest version of its SOS QR emergency app, featuring a new emergency call button for the Apple Watch that allows users to call for help with just a tap on the Watch face. Additional enhancements to the award-winning app, which runs on both iOS and Android devices, include: automatic translation of anyone's emergency record to the local language should the user need to be rescued in an emergency situation abroad; and the addition of Portuguese to the list of supported languages. SOS QR, along with Humetrix's iBlueButton secure health record management app, and TENSIO for managing hypertension, will be on display in the Humetrix booth 73228, Digital Health Summit, Sands Expo.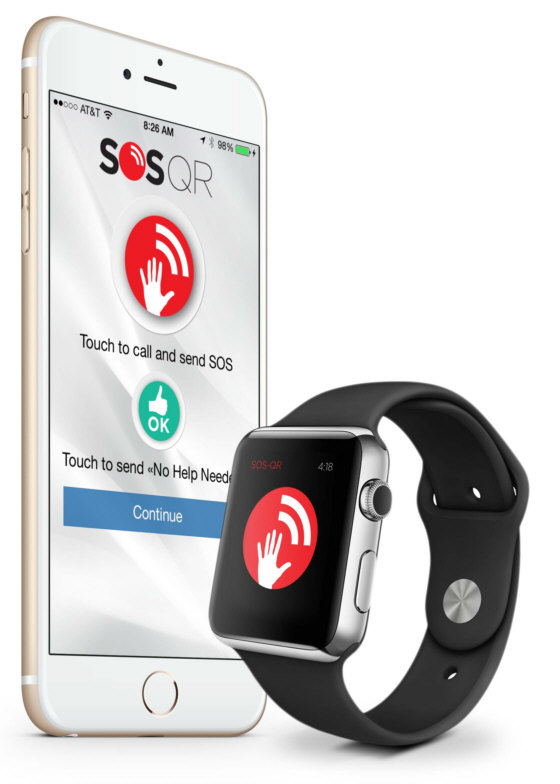 How SOS QR for Apple Watch Works
With its iPhone based GPS and communications capabilities, an Apple Watch running SOS QR becomes an alert system for anyone no matter where they are. A user traveling abroad who becomes injured or needs help in an emergency situation can call their primary emergency contact with a tap on the Watch and speak with them directly, even if their phone is not accessible. When they press the app's SOS button, the app will also send a message with the exact GPS location to all of their designated emergency contacts. When help arrives, emergency responders scan the QR code set on the Watch, iPhone or Android device to access the health information users choose to share, including medications and allergies, in their local language – English, French, Spanish, Mandarin Chinese, and now Portuguese.
"We are only beginning to tap the power of the Apple Watch for personal health and safety applications," said Dr. Bettina Experton, Humetrix's CEO. "But its capabilities make it easy to arm anyone with the tools they need to ensure their safety with prompt and effective care in an emergency situation. Until now, personal alert systems have been available only to a small segment of the population who subscribes to a service to reach a call center for help when they fall or are injured in their own home. Now, with SOS QR running on the Apple Watch, anyone can feel confident that they can directly alert loved ones and get help, no matter where they are."
Additional SOS QR Enhancements
Whether used on a mobile device or Apple Watch, the app is available in five languages, English, French, Spanish, Mandarin Chinese, and Portuguese, and automatically adjusts language and medical terminology to the local language when first responders, or other emergency care personnel, access the user's record
SOS QR is free to download from the App Store or Google Play. There is a one-time in-app purchase of $9.99 to use the SOS button calling and messaging capabilities.
Additional Healthcare Apps on Display at CES
iBlueButton is available for iOS and Android devices and allows millions of Americans and their family caregivers to receive, update, store and share their health records, securely on their mobile devices. By providing patients with their own health records, iBlueButton reduces the risk of medical errors and costly redundant tests resulting from an incomplete picture of the patient medical history.
TENSIO is designed for anyone who wants to manage his or her high blood pressure. By integrating data from self-monitoring devices through Apple HealthKit with the patient's own medical record data and an onboard expert system for personal coaching, TENSIO uses a patient's iPhone and Apple Watch to guide choices so they better manage their prescribed treatment, diet and exercise, and allows them to review their progress toward their blood pressure control goals with their doctors.
Dr. Experton will speak at the Digital Health Summit in the NextGen Digital Health Consumers: The X Games track. Her session SOS-Apple Watch Saving Lives will take place on Friday, January 8 at 11:05 am Venetian, Level 4, Lando 4304.
About Humetrix
Humetrix has pioneered the development of innovative consumer-centered mobile solutions over the past 15 years, which have been deployed around the world.
Connect with Humetrix:
Twitter: @Humetrix, #Humetrix, #TENSIOApp, #iBlueButton, #SOSQR
Media Contact
pr@humetrix.com
858-259-8987 x212