CES Health & Wellness Marketplace Booth 43331, Tech West/Sands Expo
At CES, Humetrix Shows its e-Prescribed Digital Health Technology to Transform Healthcare in the Hands of Consumers
Las Vegas, January 4, 2018 - At CES digital health market leader Humetrix will showcase in booth 43331 of the Tech West/Sands Expo Health & Wellness Marketplace, its award-winning mobile health platforms which are deployed worldwide. Humetrix technology platforms empower consumers to better manage their healthcare with actionable information and to receive safer and more cost-effective care. With the use of Humetrix technology applications, empowered patients can also assist healthcare providers meet quality of care requirements and reduce healthcare costs.
At CES, Humetrix will demo its suite of mobile health platforms that put consumers around the world in control of their own care. By offering actionable mobile applications that address the complexity of medical care, delivered in multiple settings, and which needs to be personalized, Humetrix places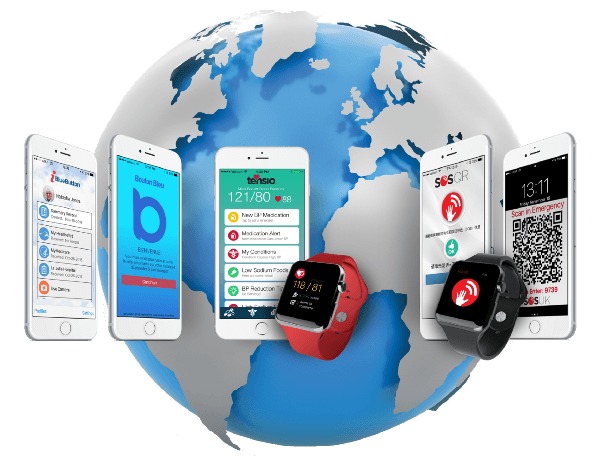 decision-making tools in consumers' own hands and on their own devices, where they can use it.
Consumer facing technology that empowers patients to actively participate in decision making over diagnostic and treatment choices are leading healthcare system changes around the world.
Humetrix will showcase its mobile health platforms that are already delivering value to healthcare consumers and healthcare systems in the U.S. and Europe, where new health policies and programs are putting consumers in greater control of their own care by empowering them with their own medical data. Humetrix mobile platforms include:
iBlueButton – The U.S. HHS multi-award Blue Button application, iBlueButton lets consumers access, integrate, review, understand, and annotate one or multiple health records from their iOS or Android device in an immediately actionable format. For Veterans - who often seek care both within and outside the VA system; Medicaid or Medicare beneficiaries - who on average see seven different doctors per year; or anyone who wants to better manage their healthcare, iBlueButton makes it easy to assemble and share critical health data with any doctor they choose. Accessing the individual's various electronic medical records (EMRs) and financial claim data from public or private payors which the application uniquely transforms in real time into a longitudinal health record directly on the user's mobile device, iBlueButton offers both ultimate privacy and accessibility for use at any time. Standard- based and code based, iBlueButton is an interoperability in the hands of consumers for use in the US and worldwide with its customizable platform.
SOS QR – Designed for emergency preparedness and to keep people safe, SOS QR is a globalized app that runs on Android and iOS phones and the Apple Watch and is available in multiple languages: English, French, Spanish, Mandarin Chinese, and Portuguese. It makes conditions, allergies and medications available to any emergency responder in the local language. It also features an "SOS Button" that users can easily press to alert emergency contacts with their GPS location in an emergency situation and an "OK Button" that they can press to let loved ones know they are safe in a disaster scenario.
TENSIO – Nearly 30 percent of adults have high blood pressure and TENSIO assembles their health monitoring device data and health record information, then uses embedded analytics to generate on going personal notifications that coach you to better manage your hypertension. In concert with your doctor, TENSIO guides you in a very personal way to manage your blood pressure with personalized notifications on your smartphone and Apple Watch regarding your medications, exercise, and diet and weight loss regimens.
Winners of the UK's National Health Service (NHS) Test Bed competition in 2016, SOS QR and TENSIO can be prescribed by 57% of NHS England GP practices caring for 26 million NHS patients starting on January 15, 2018. This revolutionary initiative is being led by EMIS Health, the largest EMR provider in the UK, who has selected a few patient-facing mobile applications to be used in tandem with their EMR services.
"By having physicians recommend and prescribe the specific mobile applications to meet the needs of their patients, is the next and revolutionary phase of consumer health where individuals are empowered with their own health data and expert systems for decision making, we can improve patient safety, health outcomes and help deliver more cost effective and personalized healthcare," said Dr. Bettina Experton, CEO of Humetrix.
Dr. Experton will be speaking on "The Government's Role in Deploying Digital Health", at the CES Digital Health Summit, taking place on Thursday, January 11th at 9:45 am, Venetian, Level 4, Lando 4304.
About Humetrix
Humetrix has pioneered the development of innovative consumer-centered mobile health platforms over the past 15 years, which have been deployed around the world. In the US, Humetrix is located in Del Mar, California, with a subsidiary in the UK headquartered in London.
Connect with Humetrix:
Twitter: @Humetrix, #Humetrix
Media Contact
Adrien Cirou
+1.858.449.1056
acirou@humetrix.com