At HIMSS Europe and Health 2.0, Humetrix CEO Presents the e-Prescription of SOS QR and TENSIO Mobile Apps in England
Barcelona, May 21, 2018 – At HIMSS Europe and Health 2.O, Dr. Bettina Experton, Humetrix President & CEO will participate in the "Healthy and Active Aging – Health2.0 Style!" conference session on Tuesday May 29, 3:30-4:30pm to present and demo how Humetrix SOS QR and TENSIO mobile apps are now prescribed by GPs in England. Starting May 1st of this year, GPs users of the EMIS Health EMR system can now e-prescribe patient facing mobile health apps curated by EMIS Health and Our Mobile Health. Among the eight curated mobile apps, which are include in the EMIS Health Library Powered by Our Mobile Health, are the Humetrix SOS QR emergency mobile platform and the hypertension coaching app, TENSIO.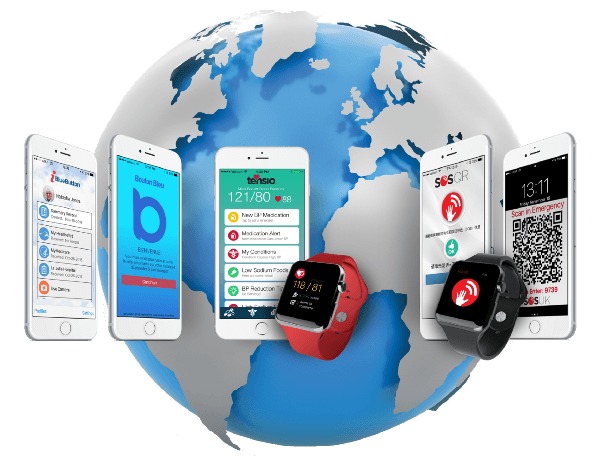 During her presentation, Dr. Experton will demo a totally novel development in digital health and digital therapeutics, showing how GPs users of the EMIS Health EMR system can now select relevant digital therapeutics - specific mobile apps - for them to e-prescribe to their various patients. Enabling physicians to e-prescribe consumer facing technologies is an important step forward in empowering patients to actively participate in decision making over their diagnostic and treatment choices.
This revolutionary new development is happening at a large scale as 57% of GPs in England are using the EMIS Health EMR system which maintains the health records of over 26 million NHS patients. The Public Health relevance of this novel e-prescription of mobile apps is also significant given the millions of patients whose conditions will benefit for the prescription and use of the selected mobile apps for inclusion in the EMIS Health Library powered by Our Mobile Health.
For example, the SOS QR emergency care app can benefit millions of patients who have life threatening allergies, take certain medications (such as an anticoagulant) or have chronic conditions which need to be immediately made known in a medical emergency. For the half of the 30% of adults suffering from hypertension who never achieve adequate control of their blood pressure, GPs can now prescribe the TENSIO app to help patients better follow their prescribed treatment and monitor their blood pressure at home. In her presentation, Dr. Experton will do a live demonstration of a patient using the Humetrix SOS QR and TENSIO apps and describe how these apps can be e-prescribed through the EMIS Health EMR system.
With new health policies and programs now putting consumers in greater control of their own care by empowering them with their own medical data, the Humetrix SOS QR and TENSIO mobile health platforms are delivering value to healthcare consumers and healthcare systems in the U.S. and Europe. In its partnership with EMIS Health and our Mobile health, these consumer facing mobile applications can now help transform healthcare at scale.
SOS QR – Designed for emergency preparedness and to keep people safe, SOS QR is a globalized app that runs on Android and iOS phones and the Apple Watch and is available in multiple languages: English, French, Spanish, Mandarin Chinese, and Portuguese. It makes conditions, allergies and medications available to any emergency responder in the local language. It also features an "SOS Button" that users can easily press to alert emergency contacts with their GPS location in an emergency situation and an "OK Button" that they can press to let loved ones know they are safe in a disaster scenario. With a "privacy by design" architecture, SOS QR is GDPR compliant, putting privacy and security at the core of its platform where personal data are securely stored on the user's device, and published to the cloud for emergency access only after de-identification by the application on the user's device under the user's total and direct control.
TENSIO – TENSIO is a mobile application which assembles health monitoring device data and health record information and uses an embedded analytics engine to provide personal coaching to help patients better manage their hypertension. In concert with their physician, TENSIO provides the means to set personal targets for exercise, diet and weight, set reminders for home blood pressure measurements and for taking anti-hypertensive medications and monitors progress towards these targets while tracking blood pressure trends to provide ongoing personalized notifications on the patient's smartphone. TENSIO also flags medications and conditions that can have important effects on blood pressure which should be discussed with patient's physician. TENSIO, a GDPR compliant application, has a "privacy by design" architecture with all personal data securely stored on the user's device only - and not in the cloud where data can be subject to hacking or other tempering.
"By having physicians recommend and prescribe the specific mobile applications to meet the needs of their patients, is the next and revolutionary phase of consumer health where individuals are empowered with their own health data and expert systems for decision making, we can improve patient safety, health outcomes and help deliver more cost effective and personalized healthcare," said Dr. Bettina Experton, CEO of Humetrix.
About Humetrix
Humetrix has pioneered the development of innovative consumer-centered mobile health platforms over the past 15 years, which have been deployed around the world. In the US, Humetrix is located in Del Mar, California, with a subsidiary in the UK headquartered in London, and offices in France.
Connect with Humetrix:
Connect with Humetrix: Twitter: @Humetrix, #Humetrix
Media Contact
Adrien Cirou
+1.858.259.8987
acirou@humetrix.com